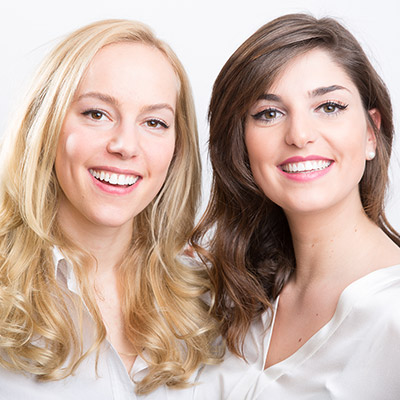 Beauty
Bleaching
We give your smile a glow!
White teeth appear particularly attractive and well-cared. They have a positive effect on your confidence, and make you cheerful, open and happy. However, teeth are unfortunately not always naturally white, but often discoloured, thus appearing significantly less attractive.
With a professional and accompanied home- bleaching, we brighten your teeth softly and carefully within 2 – 3 weeks and help you gain back a naturally white smile.
Power-Bleaching
Not many would imagine it to be possible to have whiter teeth in no time. But we have a solution for this too: Bleaching in the dental clinic – merely after an hour, you have distinctly whiter teeth.
Powder jet dental cleaning
To remove stubborn discolouration, our dental hygienists use the most important tool, Airflow. It functions similar to sand blasting – but naturally not with sand, but with a soft glycine-powder, which is nowadays used in various flavours. If you do not have an experience with it, you can probably hardly imagine how pleasant the dental cleaning experience can be. Afterwards, you will feel clean to the deep pores, and not scratched for the next three days, as before.
Would you like to add a special detail to your glowing smile?
Then tooth jewellery is just the right thing for you! We glue the ornamental stone, also called twinkle, on to your tooth carefully and absolutely pain-free within a few minutes by means of a transparent plastic. Your teeth remain undamaged. The tiny tooth ornament neither affects the speech nor disturbs you while eating, and allows the usual dental care.
If you stop liking the tooth jewellery after some time, we can remove it without any damage to your tooth.