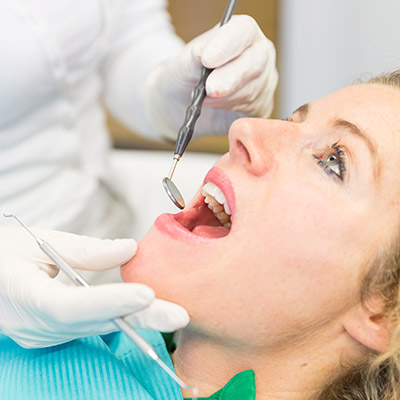 Dental treatments
General information
Single-tooth anaesthesia
Pain-free and gentle treatment technology. The tooth is anaesthetised with the modern intra-ligamentous (Peripress-) technology and not by giving an anaesthetic injection.
This is a big advantage for patients scared of injections:
No more needle prick through the mucosa
Practically pain-free application
Immediate onset of effect
No anaesthesia for the lips, cheeks or tongue
Do not fear! It does not even feel.
We also provide tooth treatments under anaesthesia. Consult us.
Dental dam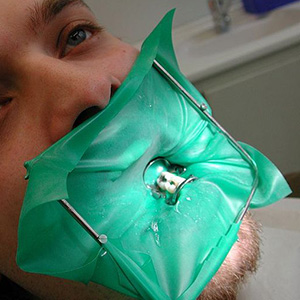 The tooth or the dental arch to be treated is completely separated from the oral cavity using a nonlatex "Plastic glove". This helps in completely removing the old filling (such as amalgam) without touching the mucosa and the oral cavity, without letting the foreign materual being swallowed. Absolute draining using a dental dam is no longer unimaginable from the modern tooth-preserving measures (e.g. composite/ceramic fillings, root canal treatments), and is a must for an optimum and promising therapy.
Hence, we use the dental dam in our clinic whenever possible.
CAD/CAM. Metal-free, computer-milled bridges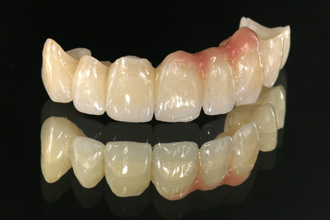 All-ceramic crowns and bridges made of zirconium oxide that are designed in 3D using CAD tools and subsequently produced in a 3D milling unit are the most appealing, high-quality solution to your needs.
Metal-free dental prostheses for discerning demands
metal-free bridgeZirconium dioxide is an all-ceramic material that is predestined for use in high-quality dental prostheses.It is metal-free and characterised by its extreme resilience, longevity and aesthetic appeal.
The material's scope of application ranges from conservative dental restorations (tooth-preserving treatment) to crowns, bridges and prosthetic implants.
The advantages of zirconium oxide as a dental replacement material lie in its outstanding bio-compatibility and the aesthetic appearance achievable with tooth-coloured ceramic.
As a bio-compatible material, it is allergy-neutral and is therefore ideally suitable for allergy sufferers and people who make a conscious decision to trust in metal-free, bio-compatible dental replacements. There are no known incompatibilities with the material.
CAD/CAM technology for maximum precision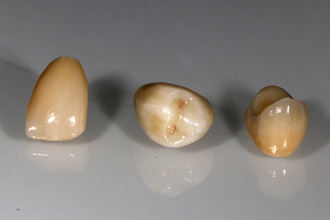 Computer-controlled CAD/CAM technology and the use of zirconium oxide makes it possible to manufacture custom-fit crowns and bridges made of zirconium ceramic.
The dental model produced in advance is scanned into the computer in the laboratory. The dental technician creates a model of the crown or bridge scaffold on the computer screen. The data are then sent to the milling centre where high-precision CNC milling machines produce the finished scaffold made of zirconium oxide.
In the next step, the dental technician will work on creating exact replicas with the shape and colour of natural teeth. Every zirconium crown or bridge is the result of precision craftsmanship. They are manufactured with a love of detail and customised to your personal dental situation.
Zirconium oxide and veneers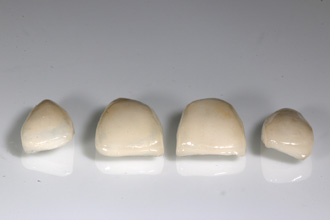 Veneers are ceramic caps made of zirconium oxide that are permanently bonded to the front teeth. These wafer-thin caps are customised for each individual patient with regard to shape and colour.
Veneers lend the teeth a natural appearance and are not only healthy, aesthetically pleasing and pleasant to wear, but also very inconspicuous.
Our tooth treatments in detail